Optometrist in Spring, TX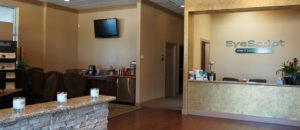 Are you looking for a Spring, TX eye doctor you can trust? Look no further than Eyescript Vision Care. We use recent advances in eye care practices and procedures in an effort to ensure that your tests are as accurate as possible. We offer comprehensive vision examinations to check the overall health of your eyes.
Personalized Service
We provide you with the personalized, professional service you expect. Our equipment uses up-to-date vision care technology, and we use only high-quality, trusted eye care products. We know that blurry vision can make everyday activities difficult, so we want to help you achieve and maintain clear vision to improve the quality of your life.
Medical services we provide care for are:
Comprehensive Eye Health Exams
Treatment and management of Diabetic Eye Disease
Cataracts
Dry Eye
Macular Degeneration
Glaucoma
Keratoconus
Eye Infections
Ocular Allergies
Computer Vision Syndrome
Trust the health of your eyes to EyeScript Vision Care. We are dedicated to taking care of all of your eye care needs.
Call us today, and our experienced staff will assist you in scheduling an appointment.